Campus Feuchtwangen as a showcase for climate-friendly construction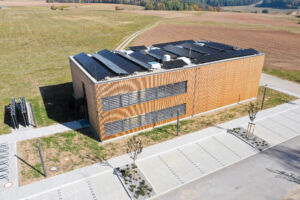 Almost three years ago, the innovative and climate-friendly research hall at Campus Feuchtwangen was built as a pioneering model project within the framework of the nationwide funding programme for Efficiency House Plus Educational Buildings. With its high-tech equipment and sustainable energy supply, the Feuchtwangen Study and Technology Centre has since been an example of a successful combination of climate protection and construction. Since 2015, the Federal Ministry of the Interior, for Construction and Home Affairs (BMI) and the Federal Institute for Research on Building, Urban Affairs and Spatial Development (BBSR) have been promoting the sustainable building standard "Efficiency House Plus Educational Building". In a recent study, the Fraunhofer Institute for Building Physics (IBP) has now scientifically examined seven of the almost climate-neutral educational buildings from the funding programme, including the research hall of the Campus Feuchtwangen, and presented initial experiences from the accompanying research.
The ultra-modern climate-friendly components of the first university building in Feuchtwang turn the educational building into a showcase and research object. The heat for the hall is generated by a brine-to-water heat pump, to which a buffer storage tank is also connected. The ice storage tank with a volume of around 273,000 litres and a "heating fence" consisting of 20 solar air absorbers serve as the heat source for the pump. A total of 150 photovoltaic modules are installed on the roof of the building to cover the energy demand. According to calculations by Fraunhofer IBP, the research hall at the Campus Feuchtwangen requires 18,709 kWh of electricity per year. The PV system on the roof generates an average of 26,681 kWh of electricity per year, resulting in an annual surplus of 7,972 kWh in the energy balance.
The German government has set itself the goal of making Germany's building stock almost completely climate-neutral by 2050. With the research initiative "Efficiency House Plus", the government has developed solutions for this and realised exemplary model projects to show how sustainable and climate-friendly building can function. The "Plus" generation of buildings developed should produce more energy than they consume over the course of the year.
"For Feuchtwangen, this innovative and future-oriented educational building, as well as the unique study and research work taking place in it, is an outstanding flagship," clarified Mayor Patrick Ruh. Campus Feuchtwangen is an example of sustainable construction and climate-friendly use of resources. Mayor Ruh was certain that "the building's equipment and also the research at the Campus will be a model for many other future buildings far beyond Feuchtwangen".
(All energy figures are taken from: "5 Jahre Bildungsgebäude im Effizienzhaus Plus-Standard. Erfahrungen aus der Begleitforschung", Federal Institute for Research on Building, Urban Affairs and Spatial Development and Federal Ministry of the Interior, for Building and Home Affairs, November 2020).