The Smart Energy Systems (SES) Master's degree programme is aimed at prospective students who don't just talk about the energy transition, but want to actively contribute to it themselves and shape the energy system of tomorrow today!
In three semesters, students learn how renewable energies can secure our supply in future grids and what we need to do to achieve this. Digitalisation plays a decisive role in this. Artificial intelligence, information and communication technology are the tools. After graduation, there are opportunities for operational, advisory or managerial positions in innovative companies, or for founding your own start-up!
The lectures take place at Campus Feuchtwangen. Programme director is Prof. Dr.-Ing. Johannes Jungwirth.
Smart Energy Systems at the Feuchtwangen Campus: a practice-oriented degree programme with international standards!The Smart Energy Systems Master's degree programme teaches the technical, economic and ecological fundamentals of modern energy systems and supplements these with the necessary digital components. In addition to the simulation and optimisation of energy systems, information and communication technology plays a key role. The use of artificial intelligence rounds off the strongly interdisciplinary degree programme. The aim is to sharpen the understanding of the individual generator and consumer technologies and to impart knowledge and skills especially with regard to the optimal operation of an entire energy system (e.g. building or neighbourhood).
Graduates are thus offered a wide range of career opportunities in the field of energy supply and marketing, building services engineering or even in the automotive industry and energy-intensive industries.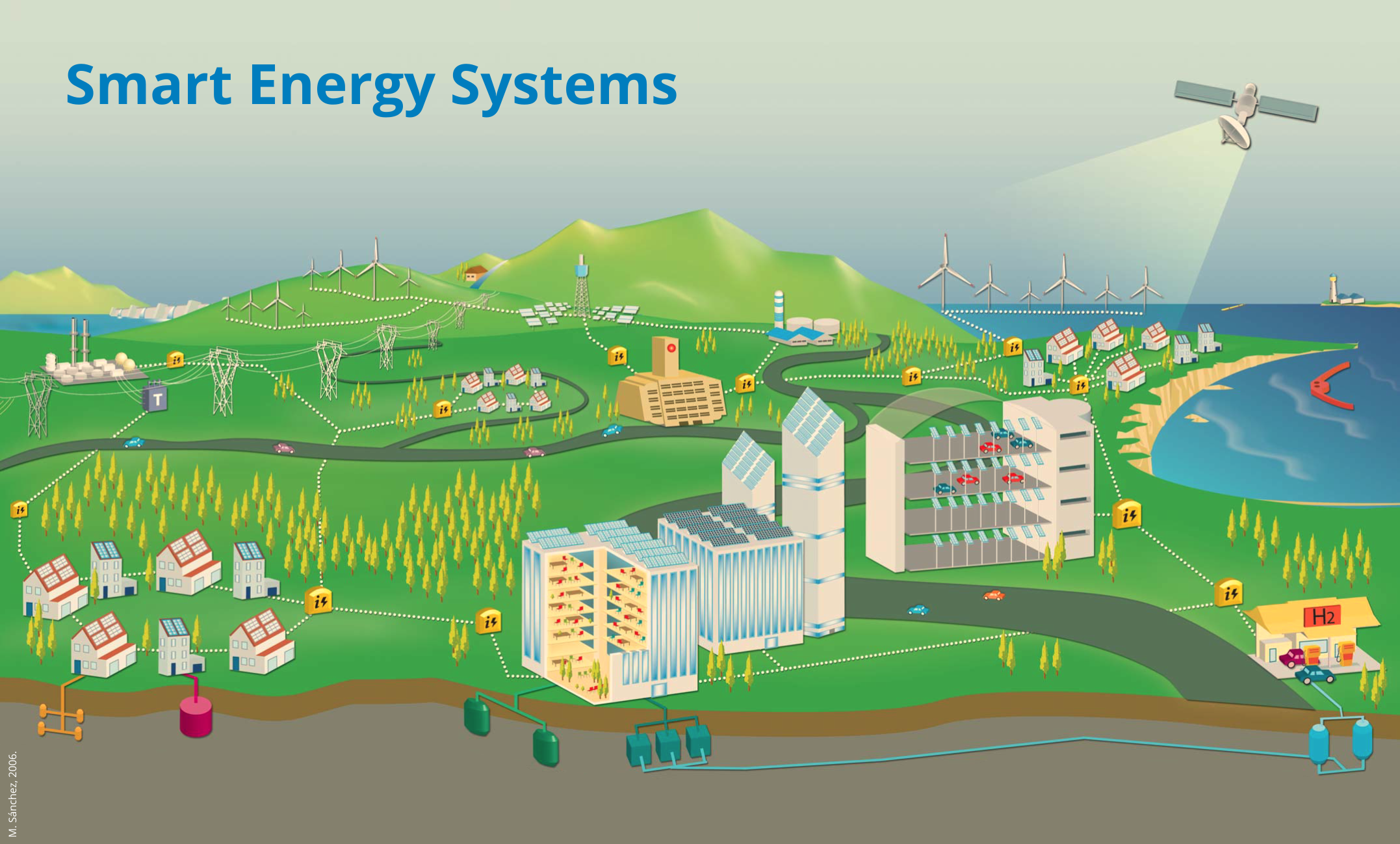 In the first semester, the Energy Systems / Energy Management module teaches elementary technical knowledge about the components and participants of the energy system. The simulation of decentralised energy systems is one of a total of five digital modules in the first semester, in which the interaction of the individual participants in the energy system with each other is dealt with. In IoT Technologies and Data Interfaces, students learn how digitally networked, intelligent systems are created through sensor technology and internet connection. With the basics of programming in LabVIEW, an easy-to-learn graphical programming environment, and the basics of artificial intelligence, the focus is on computer-based problem solving and analysis. A compulsory elective module allows a look at other exciting topics in both the first and second semesters.
In the second semester, Virtual Power Plant deals with another essential component for the energy systems of the future, namely the connection of decentralised energy producers with systems for storing or otherwise using surplus energy in so-called power-to-X plants for a reliable supply. How such systems communicate securely with each other and make decisions autonomously – without human intervention – is the topic of the module AI Applications in Energy Systems / Block chain. Entrepreneurial thinking and action sheds light on energy entrepreneurship – new business models through digitalisation. Selected guest lecturers from the business world present their personal success stories as entrepreneurs and encourage students to realise their own ideas, for example in start-ups. Optimisation / Operations Research picks up on the knowledge and tools from the first semester in order to be able to optimally align and operate even complex systems using simulation. "Hands on!" is the motto in the project work – networked energy landscape, where students plan, implement and present their own project – an ideal preparation for later professional life.
The third semester allows students to deepen their knowledge of selected topics in the master's thesis, which is planned in cooperation with various companies. The master's seminar on scientific work accompanies the master's thesis, opens up the exchange between students in the form of lectures and provides the tools for a solid scientific approach.
You complete the Master's programme in three semesters. After successful completion, you will be awarded the internationally recognised academic degree Master of Engineering (M.Eng.).
Module Plan for

Smart Energy Systems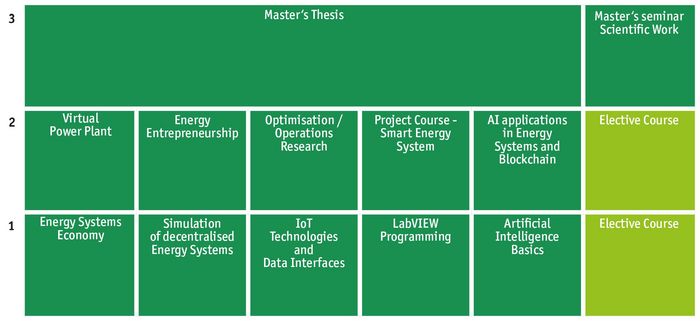 The programme is designed as a classroom-based course at Campus Feuchtwangen. Spacious, bright seminar rooms with modern equipment are a matter of course. Open spaces encourage social exchange.
The lectures are usefully supplemented by seminars and practical exercises. Our research hall is equipped with a large number of models and test stands where students can proactively apply and deepen their knowledge. In addition, our networked, smart plus-energy building offers the opportunity to learn on a living object.
There is currently a high and growing demand for specialists in the field of intelligent networking of decentralised energy producers and consumers. Due to the increasing complexity and coupling of sectors, the need for qualified specialists and managers with a profound understanding of intelligent energy systems is growing. New business areas and business models arise from the networking, which SES graduates can identify and implement.
Industries
Fields of activity

Energy suppliers/municipal utilities/direct marketers
Real estate industry and building services engineering
Automotive industry
Renewable generation (PV, wind, biogas, geothermal)
Conventional/flexible generation (CHP, district heating)
Storage (batteries, hydrogen)
Energy-intensive industry

Management positions
Development
Implementation
Business Development
Sales
Operations
You can only start on the Smart Energy Systems Master's degree programme in the winter semester. As with all degree programmes, you must apply for this Master's degree programme in good time between 1 and 31 May via the online application portal. Please note that the regular deadlines are exclusion deadlines. Your application must therefore be received by us by the end of the last day of the respective deadline at the latest.
In addition, a successfully completed university degree in a relevant degree programme or an equivalent domestic or foreign degree with an overall examination grade of at least 2.3, the scope of which usually comprises 210 ECTS credits, but at least 180 ECTS credits, is required. Relevant courses of study are those that build on fundamentals from the fields of engineering sciences (e.g. applied engineering sciences), electrical engineering, mechanical engineering, physics, computer science, supply engineering or comparable.
Applicants must also demonstrate sufficient knowledge of the English language and some basic knowledge of the German language. As the degree programme is conducted in English, proficiency in this language is essential and proof of level B2 is required (native speakers are exempt from proof). If German is not a native language, sufficient knowledge of the German language must be proven by passing German courses CEFR A2.
Applicants to Bavarian universities of applied sciences are subject to the "Bayerisches Hochschulgesetz" (BayHSchG) and the "Verordnung über die Hochschulzulassung an den staatlichen Hochschulen in Bayern (HZV)".
studierendenservice.ses@hs-ansbach.de
Building 54 Hochschule Ansbach