Working together more closely
The Bayerische BauAkademie and the Campus Feuchtwangen of Ansbach University of Applied Sciences approach each other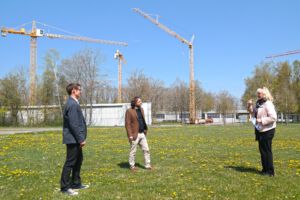 The Managing Director of the Bayerische BauAkademie Gabriela Gottwald, Campus Director Prof. Dr.-Ing. Johannes Jungwirth and the new Coordinator at Campus Feuchtwangen Dr. Gerd Hofmann have confirmed a more intensive cooperation for the future at a joint meeting. Not only the physical proximity predestines this, but also the common focus: education and training in the area of innovative as well as sustainable ideas in the field of construction.
Ms Gottwald, who has been intensively involved with topics such as renewable energies since the 1990s and has already set up several companies not only in Germany and Europe, but worldwide, was impressed by the enthusiasm with which Prof. Jungwirth and Dr. Hofmann are currently developing the campus and, in particular, setting up the new international degree programme Smart Energy Systems. She is also confident about the number of students: "German know-how is still highly regarded and in great demand internationally.
"The Bayerische BauAkademie is focused on the further education and training of trained specialists, some of whom have several years of professional experience. Campus Feuchtwangen will provide lecturers from research for this purpose. In return, practitioners can provide valuable insights into practice for the university's students, who are only at the beginning of their professional careers," says programme director Jungwirth about the agreement reached.
In the course of the year, more projects are to be launched, so in future joint ideas will be developed and projects pushed forward in a regular jour fixe. At the top of the agenda is the exchange of ideas. "After all, the best theory is no good if it cannot be applied in the end," says Dr Hofmann, referring to the synergy potential that arises in particular for applied research.
A cross-site tour with various information points with QR codes is also to be created. While the BauAkademie will provide the historical background to the development of various construction methods, the research building of the Campus Feuchtwangen will make clear what is technically possible according to today's standards.