Drones as a tool for rescuing young wildlife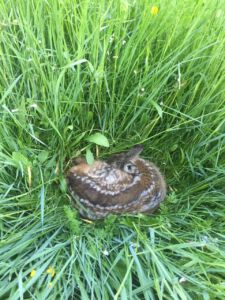 Young wild animals often lie in the middle of meadows in the high grass between the beginning and middle of May and are therefore easily overlooked and killed during mowing. Farmers call in hunters to comb the meadows on foot and look for young game. However, this can be done much faster with the help of drones with thermal imaging cameras that fly over the meadows and can thus locate fawns.
Dietrich Schneider from the Bavarian Drone Academy, who offers his services as a drone pilot and thermographer, can also help. To do this, he has to be up early, because in the cool morning hours the temperature difference between the meadow and the fawn is particularly great, which makes the search easier. Before take-off, Dietrich Schneider prepares a round take-off and landing area for the drone on the ground. When a fawn is found, red spots appear on the thermal imaging camera, clearly indicating the warm body temperature of the young animal against the background of the cooler meadow. Hunters then carefully pick it up with some greenery in their hands and carry it to the edge of the forest.
The federal government already supports this kind of fawn rescue; a three-million-euro funding programme for the acquisition of such drones has just been launched. The Fränkische Landeszeitung also reported in the article "Using drones to save fawns" by Hasan Kadioglu.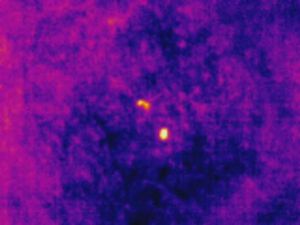 This is only one of many possible use scenarios for drones with thermal imaging cameras. Thus, the Bavarian Drone Academy of the Ansbach University of Applied Sciences at the Campus Feuchtwangen offers students deeper insight into further practical applications and the physical background with its course "Thermography with Drones".