Cooperation between the Bavarian Drone Academy and Weihenstephan-Triesdorf University of Applied Sciences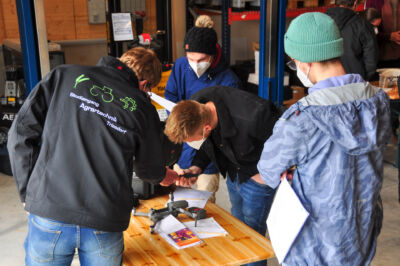 The Bavarian Drone Academy Ansbach (BDAN) is not only responsible for the training and licensing of drone pilots. The exchange and transfer of knowledge with economic organisations, authorities and other interest groups from the region, as well as applied research and development are also among the fields of activity. Current research ideas include combining drones with hydrogen propulsion or flow simulations to improve performance capacities and expand the possible uses of drones. The expansion of other teaching fields is also being planned. A few topics could be plant vitality, photogrammetry or artificial intelligence.
We are therefore delighted about the first cooperation between the Bavarian Drone Academy and the Weihenstephan University of Applied Sciences in Triesdorf, and especially with Prof. Patrick Noack from the Competence Centre for Digital Agricultural Economics (KoDA).
Thanks to the high media and technical capabilities of its two founding faculties, the Bavarian Drone Academy offers interesting opportunities for Triesdorf to better showcase its focus areas and at the same time use supporting technology in agriculture.
At the same time, Ansbach University of Applied Sciences benefits from the high ecological and scientific know-how from Triesdorf and would like to open up for joint remote sensing projects in the future.
The first steps towards cooperation have already been taken. In the winter semester 2020/21, students from Triesdorf University of Applied Sciences had the opportunity to attend a course at Ansbach University of Applied Sciences at Campus Feuchtwangen for the first time. This happened with the module "Basics UAV" – an introductory course into the world of drones (we reported).
Both sides are interested in expanding and deepening the cooperation. For example, the Bavarian Drone Academy is happy to lend drones to students at both universities for their own student project activities. The prerequisite for this is, among other things, successful completion of the online exam for the A1/A3 remote pilot licence on the website of the Federal Aviation Authority as well as successful participation in the above-mentioned course and the practical flight training at Campus Feuchtwangen.
The goal is to continue to deepen the cooperation with the colleagues from Triesdorf and to initiate joint projects and lectures. The fields of application are therefore diverse and we are excited to see how these technologies will develop in Feuchtwangen.