Interactive

simulation

game

workshop

–

EnergyNext
Understanding

energy

and

bu

siness

connections

,

experiencing

bu

siness

and

energy

policy

decisions

realistically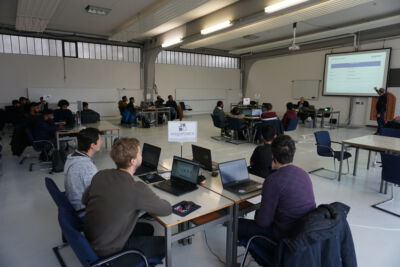 At
the
end
of
the
year
,
the
Smart
Energy
Systems
students
of
Campus
Feuchtwangen
participated
in
the
two-day
simulation
game
workshop
EnergyNext
.
The
aim
was
to
combine
theoretical
lecture
content
with
knowledge
imparted
in
the
seminar
in
the
fields
of
power
plant
operation
,
energy
trading
and
sales
.
"We have been using EnergyNext at Ansbach University of Applied Sciences for years both in the bachelor's program "Energy Systems and Energy Economy" and in the master's program "Energy Management and Energy Technology. " The simulation game is highly demanding and uniquely connects the previous knowledge conveyed in lectures and seminars. From brain research, it is well known how important positive emotions are for successful learning – and these are precisely what you get here", says Prof. Dr. –Ing. Georg Rosenbauer, lecturer for the module Energy Systems and Energy Economy in the master's program Smart Energy Systems. "It´s moving me how the experienced team of coaches manages to accompany the groups individually each year through complex and sometimes personally challenging game phases and lead to a shared enthusiasm and justified pride in what they have achieved", Prof. Rosenbauer continues.
Divided into six virtual energy companies, the participants competed against each other and tried to lead their company to success. The challenge here lay in the interaction of the team members, the control of buying and selling, and the response to different market signals.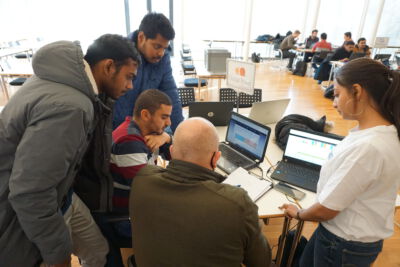 Who

wins

the

most

clients

?
During
the
simulation
game
15
years
of
the
energy
companies
are
experienced
.
In
the
role
of
managers
, the
students
must
react
to
changes
in
the
regulatory
and
economic
framework
and
ensure
future-oriented
power
plant
operation
.
This
includes
not
only
economic
action
in
the
electricity
market
and
tactical
negotiations
with
the
b
ank
, b
ut
also
lobbying
the
government
.
Ultimately
,
however
,
the
customers
gained
determine
who
can
generate
the
highest
profit
.
However
,
the
future
is
not
always
predictable
.
.
.
Fukushima and climate change
Unpredictable for the fictional companies, the EnergyNext government reacted to the nuclear disaster in Fukushima with a nuclear phase-out in no time at all. For the heads of the energy companies, this means dismantling old nuclear power plants, renovating existing plants and new power plants to compensate for this. From an economic point of view, the unpredictable investments had to be made as forward-looking as possible. In another scenario, subsidies for coal-fired power plants were removed, leading to a sudden increase in production costs. In both scenarios, the expansion of wind power and photovoltaic systems slipped into focus, as they have very low running costs.
All-round interaction
Multiple factors had to be analysed and correctly interpreted for the survival and growth of the company. Most of the teams were able to drive their business forward. Others, however, had to fight for customers and were saved by emergency loans from banks. A certain emotionality, a desire to win and a willingness to learn accompanied the game to the end.