Energy transition made in Feuchtwangen
Visit of the Protestant Education Center at the Campus Feuchtwangen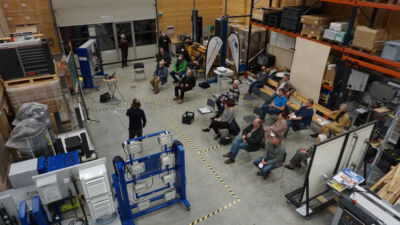 Last Thursday, the "Evangelisches Bildungswerk" visited us at the Campus Feuchtwangen. During a guided tour around and through the building with our coordinator Dr. Gerd Hofmann, our guests were able to learn a lot about the energy fence, the ice storage and the heat pump for heat supply. They also got an insight into the photovoltaic system on the roof for the office operation and electricity requirements of the heat pump, the surpluses of which are fed into the grid. Another highlight was the new "wallbox test lab", which has various facilities for charging electric vehicles. It was also possible to take a look behind the scenes at how a new test stand for batteries is being created in the lab.
During the tour, Dr. Hofmann also clarified the questions that arose about the storage system and fire protection: The storage is not integrated, here the grid serves as energy storage. Various battery storage units for study purposes are nevertheless available. Since the facade of the campus building is made of wood, the fire protection of it was questioned at this point. However, with the appropriate thickness or strength of the wood, this is also given. Overall, to our delight, there was great interest from the audience!
Following the tour, the director of the Feuchtwangen campus, Johannes Jungwirth, offered a lecture in which he explained the opportunities provided by the degree programs offered at the campus and the research conducted here in light of climate change and the increasingly visible climatic changes in recent years.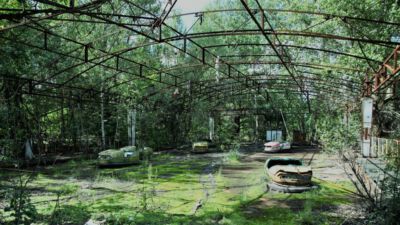 The motivation for the energy turnaround is actually very selfish: to ensure our survival, we need an alternative to the current methods. Nature recovers, it may take a little longer, as for example after the nuclear accident in Chernobyl. However, if used properly, it is an infinite source of energy.
Energy-saving use of resources should become a matter of course. For example, many resources are needed for both construction and operation. In this context, our Sustainable Engineering program with a focus on energy and building technology offers the opportunity to learn about forward-looking methods and alternatives and to implement them safely.
A decentralized approach to energy supply with many small players can be considered a "virtual power plant" like a conventional power plant. However, this requires specialists. Anyone interested in this can train to become just such a specialist in our Smart Energy Systems master's degree program.
The drone academy at the Campus Feuchtwangen offers a wide variety of options for technical support. Not only aerial photographs and thus unusual perspectives are possible, but technical means such as photogrammetry or thermography can also be used.