Campus Feuchtwangen celebrates
Review of the 1st Feuchtwangen Campus Festival
Full parking lots at the Feuchtwangen campus: Last Saturday we celebrated the 1st Feuchtwangen Campus Festival with many interested visitors! To our delight, numerous guests from young to old accompanied us throughout the day.
At the opening of the festival, Campus Director Prof. Dr.-Ing. Johannes Jungwirth welcomed our guests of honor: In addition to University President Prof. Dr.-Ing. Sascha Müller-Feuerstein, the Dean of the Faculty of Engineering Prof. Dr. Norbert Kaiser and Feuchtwangen's Mayor Patrick Ruh also attended.
Furthermore, the managing director of the Bavarian BauAkademie Gabriela Gottwald, Wolfgang Neukirchner as head of the authority for rural development and Michael Nowakowitsch as second chairman of the Förderkreis Campus Feuchtwangen e.V. spoke words of welcome.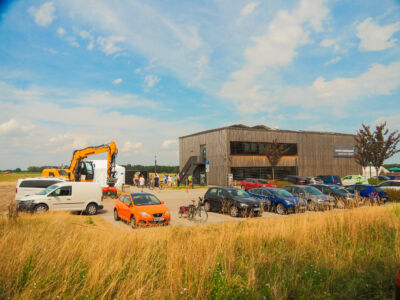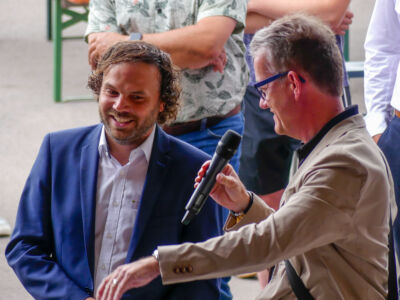 Both the taster lectures and the presentations were well attended. And no one shied away from discussions or more in-depth questions. The booths of our partners were just as busy and offered visitors the opportunity to get in touch and inform themselves.
The weather also played into our cards: After initial grey skies, the sun shone throughout the rest of the day, allowing for cozy outdoor gatherings as well as numerous activities that met with great enthusiasm, especially among our younger guests: In addition to a bouncy castle and a virtual reality tour of the new campus building, there was the opportunity to take the controls of a drone for once. Looking back, the Campusfest was a complete success!
This is what the Campus Festival looked like: