A pioneer from the very beginning
Return to home, a fulfilling job and the realization of dreams
On the heimkommen.bayern website an article about our Oliver Abel was published. It is about his history and tasks at our campus. Here is a short summary, but for the whole article, please have a look at the website of heimkommen.bayern.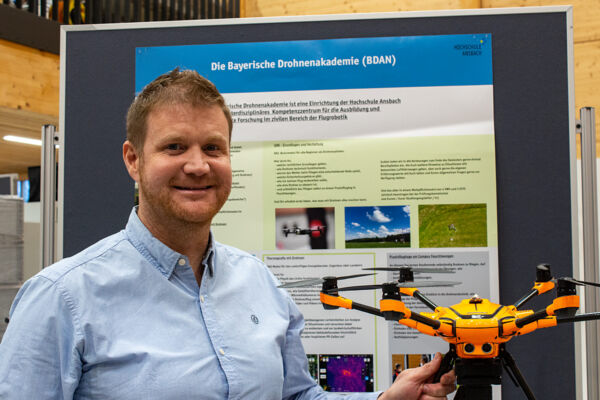 Oliver Abel is a laboratory engineer at the Feuchtwangen Campus and a staff member from the very beginning. He supervises young students of sustainable engineering, the international study program "Smart Energy Systems" and is very involved in the Bavarian Drone Academy. As a lab engineer, he monitors the functionality of the students' equipment and test rigs, takes care of new acquisitions and repairs, and supports the professors in preparing lecture notes.
Oliver was born and raised in the region. He has fond memories of his childhood, which he spent on a farm near Feuchtwangen. After training as a carpenter, he worked for a company that built many wooden houses. Later, he attended the vocational high school in Ansbach and then studied wood technology.
Oliver is an example of how someone can find their career path through a passion for nature and sustainability. He has successfully established himself in the region through his education and work at the Feuchtwangen campus, helping to ensure that young people receive an excellent education in sustainable engineering.