Further training to become an Energie-System-Experten
Campus Feuchtwangen starts with new course in November
The supply of residential and non-residential buildings with electricity and heat is currently undergoing a major change. Not so long ago, the electrician provided the power supply and, independently of this, the plumber and heating engineer installed the heating system for the building. Today, the requirements are more complex: The power and heat supply should be as efficient and CO2 neutral as possible, smart functions and the connection of all systems to the Internet are a matter of course. With photovoltaics (PV), a heat pump, battery storage and their own wallbox for the electric car, every owner becomes a prosumer who no longer just draws energy from a central power plant, but can also provide it as an active participant in a decentralized network.
At the Feuchtwangen Energy Campus of Ansbach University of Applied Sciences, intensive work is being done on how all these components can develop their full potential: "We have already coupled our heat pump for the research hall to the electricity generated by the photovoltaic system. This allows us to use the electricity generated directly and store it in the form of heat for heating," explains Thomas Haupt, a research assistant at the campus. He continues, "Some charging stations in our wallbox test lab also offer a very similar function, called PV charging, to charge electric cars specifically when the sun is shining. Alternatively, the electricity can be stored in one of our battery storage units."
"A wide range of knowledge is needed to make all this work smoothly" says course instructor Christoph Matschi. "As part of the advanced training, we will teach the basics of building and energy technology as well as programming and control. We will show possibilities through artificial intelligence (AI) and explain the processing of the collected measurement data."
In the ESF REACT-EU funded Energy Systems Expert course, participants can get extensive knowledge about different energy systems, their planning, implementation and optimization. They will gain insights into the latest technologies and solutions to increase energy efficiency, integrate renewable energy and develop smart energy systems. In addition, they will be able to assess the variety of systems and evaluate their suitability. In particular, the necessary networking will also be addressed and different systems with their advantages and disadvantages will be highlighted.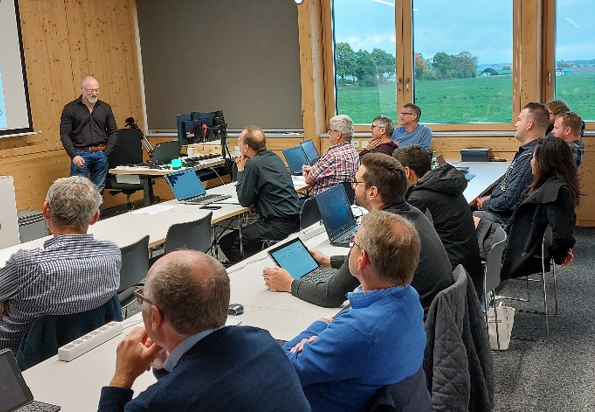 The team at Campus Feuchtwangen will support the participants with its comprehensive expertise and practical examples. Interactive discussions, group work and practical exercises will apply and deepen the knowledge.
Energy system experts have an important role to play in addressing current energy technology challenges and thus actively contribute to advancing the energy transition and making a positive impact on our environment and society.
The advanced training will take place on the following five days:
Nov. 8, Nov. 9, Nov. 15, Nov. 16 and Nov. 23, 2023.
Interested parties can find participation requirements and registration materials at www.hs-ansbach.de/esf or via QR code on the course page.