Finding weak points in building insulation
Support of Klimabündnis and Bund Naturschutz Rothenburg

A group of activists from the Rothenburg Region Climate Alliance and the Rothenburg branch of the German Society for Nature Conservation visited the Feuchtwangen campus of Ansbach University of Applied Sciences to learn more about infrared thermography. At the field office with emphasis energy and building services engineering are trained apart from beginning engineers among other things also energy consultants.
Laboratory engineer Oliver Abel instructed the seven participants in the information event on the physical principles of thermography as well as the correct settings and handling of a thermal imaging camera. The expert from the university also went into detail about the correct interpretation of the thermographic images produced and pointed out possible sources of error.
The contact came about through the Energy Talk at the Energy Campus in Feuchtwangen. Every third Wednesday of the quarter, the team headed by Prof. Dr.-Ing. Haresh Vaidya is available to answer questions about sustainability and energy. In addition to selected impulse lectures, discussions are held in large groups. "We are very happy to support such activities in the region" says Campus Coordinator Dr. Gerd Hofmann in response to the request.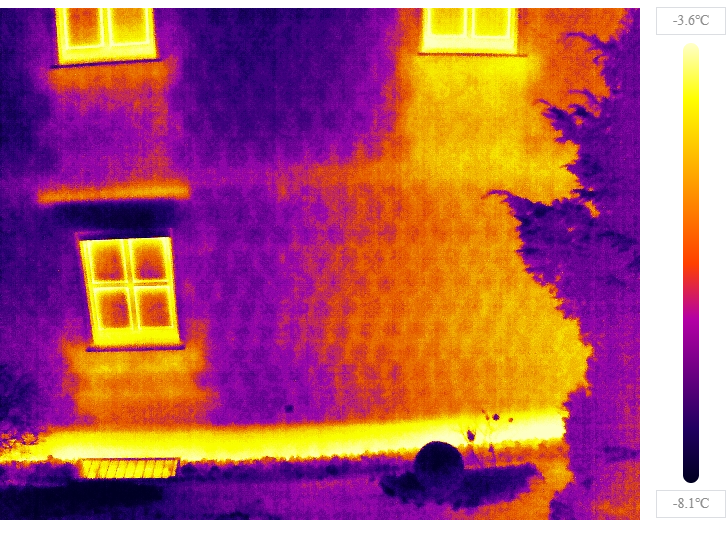 "Our goal is to offer fellow citizens in the near future a low-threshold offer to detect avoidable thermal bridges with the associated high energy losses at their properties. With the help of the Thermographie photographs weak points in the building envelope can be represented as for example uninsulated blind boxes or leaky windows descriptive and very impressively ?explains walter cube of the federation nature protection and further: ?If weak points are localized, they can be eliminated usually with something manual skill, for example by the exchange of window seals by the owner or tenant.
owner or tenant eliminated. For a more elaborate investigation and renovation, a qualified energy consultant* and specialist companies should be consulted."
In addition to the expected financial savings from lower heating energy consumption, the uncertain energy situation in the country and, above all, the advancing global climate change should be a constant incentive to use fossil fuels carefully and sparingly.
You are also cordially invited to our Energy Talk